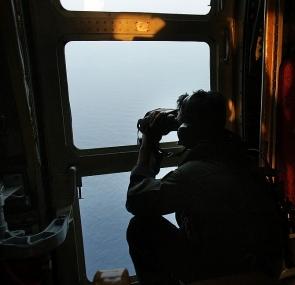 Australia on Sunday said there was "increasing hope" of a breakthrough in locating the missing Malaysian jet as a wooden cargo pallet had been spotted in a remote part of southern Indian Ocean, a day after Chinese satellites detected a large object floating in the area.
The pallet, along with belts or straps, was spotted by one of the Australian aircraft deployed to hunt for the Malaysian Airlines Flight MH370.
The plane had gone missing on March 8 off the Malaysian coast with 239 people on board, including five Indians and one Indian-Canadian.
"New Chinese satellite imagery does seem to suggest at least one large object down there, consistent with the object that earlier satellite imagery discovered," Australian Prime Minister Tony Abbott said.
"One of our civilian search aircraft got visuals on a number of objects in the Australia search zone. (There were) a number of small objects, fairly close together within the Australian search zone, including as I understand it a wooden pallet. Before we can be too specific about what it might be we need to recover some of this material.
"It's still too early to be definite, but obviously we have now had a number of very credible leads and there is increasing hope -- no more than hope, no more than hope – that we might be on the road to discovering what did happen to this ill-fated aircraft," Abbott told reporters in neighbouring Papua New Guinea, where he is on a visit.
More planes today joined the hunt in the desolate area in the Indian Ocean, about 2,500 km southwest of Perth, where three days of scouring through the area found nothing.
The jet had mysteriously disappeared from the radar screens, an hour after its take-off from Kuala Lumpur.
On Saturday, a new object was spotted by Chinese satellites that could be debris from the Beijing-bound Boeing 777-200, in the latest development for the hunt that entered its third week.
The object sighted by the Chinese satellites is 22.5 metres long and 13 metres wide and about 120 km southwest from a location where possible debris was sighted by another satellite on March 16 in the remote ocean off western Australia.
Two Chinese aircraft and two Japanese Orions joined the fleet flying into the search zone, which was on Saturday expanded to 36,000 square km.
"The more aircraft we have, the more ships we have, the more confident we are of recovering whatever material is down there," Abbott said.
Image: A Malaysian Air Force personnel searches the water for signs of debris from the airliner during a search and rescue mission flight ' Photograph: Rahman Roslan/Getty Images