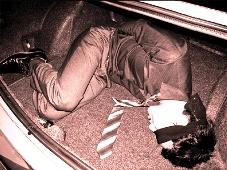 Three Indians held at gunpoint for three days by kidnappers in Hong Kong have been freed following a rare international operation. The three men - travelling on a business trip to Hong Kong -- were abducted within hours of their arrival on Saturday.
They were taken to a hideout in the northern new territories and guarded by a gang armed with a firearm and choppers. The kidnappers have demanded a ransom of $.5 million from their families in India, South China Morning Post reported on Wednesday.
The abduction, which led to a rare international police operation over the weekend, ended with their release. 27-year-old man of Indian descent was arrested in Hong Kong and another man, aged 28, is being held by the police in India in case with the connection, the paper said.
The police are hunting the remaining members of the gang. Details of the international effort to release the captives, aged 35, 48 and 55, are being kept under wraps but sources have told the paper that they were driven to Chek Lap Kok airport on Monday and set free.
Sources close to the investigation said all three businessmen suffered injuries during their captivity but were able to be interviewed by the police. It is understood no ransom was paid but the gang took the victims' cash and valuables before they were freed.
The 27-year-old suspect is facing kidnap and robbery charges and was being questioned in Tai Po police station. Detectives from the New Territories North regional crime unit are now leading the hunt for the rest of the kidnap gang -- all believed to be of South Asian origin.
"The victims were threatened and held by five to six South Asian men armed with choppers and what appeared to be a pistol. It was well-planned and obviously had an international dimension to it," a police source said.
The Hong Kong police sought assistance from the Indian authorities through the force's Liaison Bureau, a move a senior police officer described as "rare".