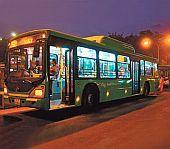 In the backdrop of gang-rape of a 23-year-old girl in a moving bus, Delhi government on Thursday began deploying home guards in 89 Delhi Transport Corporation night service buses.
These 89 buses will cover almost all parts of the city and run between 11 pm and 5am.
The deployment started at a function attended by Transport Minister Ramakant Goswami.
"All the 89 buses, each having a home guard on board, started operation from tonight," a senior transport department official said.
The decision came a day after Delhi Chief Minister Sheila Dikshit in a meeting with Goswami and other officials decided to deploy home guards and to increase the services of night buses from existing 42 to 89.
The decision was a part of Delhi government's measures to enchance security of women in buses.
DTC operates a fleet of around 6,000 buses.