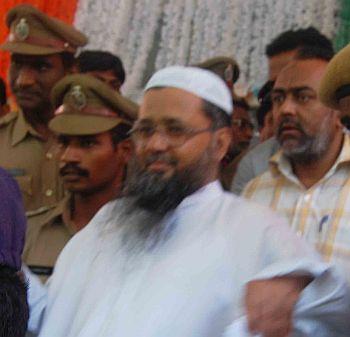 Mujeeb Ahmad, a suspected Hyderabad-based operative of terrorist organization Hizbul Mujahideen was sentenced to life imprisonment by a court in Hyderabad on the charges of sedition and collecting arms to wage war against the country.
The first metropolitan sessions judge Srirama Murthy also sentenced six associates of Mujeeb Ahmad to ten years imprisonment. Mujeeb and others were found guilty under section 122 (collecting arms with intention of waging war against the country) 124-A (sedition), 23-A of Unlawful Activities (Prevention) Act. However they were acquitted from the charges of criminal conspiracy.
Those convicted also include a driver from Baramulla in Kashmir Shabbir Ahmad and cleaner Ravinder who were arrested by Rajasthan police in Ajmer district in December 2005 when they were bringing consignment of arms for Mujeeb Ahmad. Others sentenced include Mujeeb's brother in law Yaseen and Shaikh Awadi.
However two accused the Hizb Chief Salahuddin and a former Naxalite Nayeemuddin were shown as absconding.
The prosecution submitted before the court that Mujeeb Ahmad links with Hizbul Mujahideen and was in touch with its Pakistan based chief Syed Salahuddin. It also told the court that the Hizb had provided him with the satellite phones and arms to carry out terrorist activities in Hyderabad.
This is second time that Mujeeb Ahmad has been sentenced to life imprisonment. Earlier, he was awarded the punishment in the killing of a police officer Krishna Prasad in November 1992, extortion of money possessing an AK 47 rifle. In a controversial move the state government had released him on Independence Day in 2004 by remitting his sentence after he had served 12 years in jail.
Known to be a hardcore radical, Mujeeb Ahmad had resumed his criminal and anti-national activities soon after coming out of the jail by reactivating the cell of his supporters.
After the judge pronounced the sentence in a crowded court room on Friday, Mujeeb Ahmad shouted from the police van that the charges against him were "fabricated and politically motivated." While being taken to Charlapally jail, Mujeeb threw a piece of paper towards the mediapersons in which he alleged that he was framed by the member of Lok Sabha from Hyderabad Asaduddin Owaisi, the additional director general of police K Arvind Rao and former Naxalite Nayeemuddin.
In an apparent threat to Owaisi, he said, "Let the police save his family".
Mujeeb Ahmad and his associates were arrested by Hyderabad police on December 26, 2005 after his attempt to smuggle sophisticated arms from Kashmir to Hyderabad was busted.
It came to light when Rajasthan police caught a marbel laden truck in Ajmer district with three Ak-47 rifles, 220 round of ammunition and 15 detonators hidden and arrested its driver Shabbir and cleaner Ravinder. On their revelation that the arms consignment was meant for Mujeeb Ahmed, the Hyderabad police arrested him and others.
Text: Mohammed Siddique in Hyderabad
Image: Mujeeb Ahmad reacting after he was sentenced to life imprisonment by Nampally Court in Hyderabad on Friday
Photograph: SnapsIndia