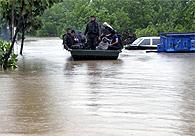 Heavy monsoon rains on Monday wreaked havoc in the hill states of Uttarakhand and Himachal Pradesh and flooded parts of Haryana, where the water level in the Yamuna rose alarmingly, leaving 22 people dead and l,000 stranded.
As many as 50 people are missing in Uttarakhand, where authorities suspended the chardham yatra to Yamunotri, Gangotri, Kedarnath and Badrinath. The annual Kailash Mansarovar Yatra was also suspended in view of heavy rains in Uttarakhand.
The tribal Kinnaur district in Himachal Pradesh was the worst-hit, with nine people dead in landslides that blocked important roads, leaving Chief Minister Virbhadra Singh stranded in Sangla Valley.
Nearly 1,000 tourists and locals were stranded at various places, including 800 in Sangla alone, where heavy rains hampered rescue operations. Nearly 25 foreigners and a Doordarshan team were also stranded in Kinnaur district.
In Uttarakhand, five more bodies were recovered from near the Himalayan shrine of Kedarnath, taking the toll in the torrential rains lashing Uttarakhand to 13.
The rains have triggered flash floods in Ganga, Yamuna and their tributaries, sweeping away a number of bridges, roads and buildings.
The swirling waters of Assiganga, a tributary of the Ganga, have swept away several buildings.
Heavy rains in several parts of Haryana, particularly in Yamunanagar district, have led to floods. The water level in Yamuna has risen alarmingly, prompting authorities to sound a high alert in the neighbouring districts of Karnal, Panipat and Sonepat.
Several low-lying villages in the district were flooded after the Yamuna received heavy rainfall in its catchment areas.
The rains have led to an alarming increase in the water level of Yamuna, with over 8 lakh cusecs water flowing through the Hathni Kund barrage early today morning.
In view of the rising water level in the Yamuna, a high alert has been sounded in the neighbouring districts of Karnal, Panipat and Sonepat.
Meanwhile, 52 people, including 15 children, stranded on a tract of land in Haryana's Yamunanagar district due to floods triggered by heavy rains, were rescued today.
The southwest monsoon had on Sunday advanced into Haryana, Chandigarh and Punjab, 15 days ahead of its schedule. Last year, the monsoon had hit the region on July 7.
The national capital was also drenched with heavy rains, causing water-logging and subsequent traffic chaos in various parts of the city.
According to the MeT department, Delhi received 21.9 mm rains from 5.30 on Sunday evening till 8.30 today morning. The rain gauges have measured a total of 58.5 mm of rain during the last 24 hours.