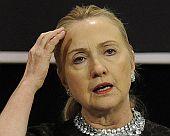 United States Secretary of State Hillary Clinton returned to work on Monday after a month-long absence due to health scares, including a potentially dangerous clot in her head, as she met top officials at the State Department.
Clinton, 65, has not been seen in public since December 7, after a blood clot was discovered in a vein between her skull and the brain.
She was admitted to a New York hospital after she fainted and fell down while recovering from a stomach infection. She had to cancel all of her foreign trips, and was forced to work from home.
The Senate and House foreign relations committees also postponed her Congressional testimonies on the terrorist attack on the US Consulate in Benghazi that resulted in the death of three American nationals including the US Ambassador to Libya.
Her office is now working with the Congressional leadership to reschedule her appearance at the Capitol Hill.
Soon after her arrival at the Foggy Bottom headquarters of the State Department, Clinton held a meeting with the Assistant Secretaries.
On Tuesday, she is scheduled to meet Defence Secretary Leon Panetta and National Security Adviser Tom Donilon, at the White House.
Besides attending meetings at the White House, Clinton is also scheduled to hold a flag ceremony for US Ambassador to South Africa, Donald Gips, at the Department of State.
On Wednesday, Clinton will meet with the management team, besides continuing to hold meetings at the White House.        
Clinton will meet visiting Afghan President Hamid Karzai on Thursday at the State Department and and will also hold a working dinner for him later in the evening.
She will participate in meetings and events surrounding the visit of Karzai in Washington on Friday.
Last Friday, State Department spokesperson Victoria Nuland had said that Clinton was looking forward to getting back to the office.
"Some of the senior staff who spoke to her about half an hour ago say that she's sounding terrific, upbeat, raring to go. She's looking forward to getting back to the office," State Department spokesperson Victoria Nuland had told reporters.