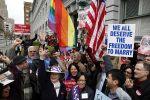 Former US Secretary of State Hillary Clinton, being considered as a potential 2016 presidential candidate, today came out in open support of same sex marriage, which is considered a significant change from her previous position.
"I believe America is at its best when we champion the freedom and dignity of every human being," Clinton said in a video statement to the Human Rights Council, a gay rights advocacy group.
"Full and equal citizens and deserve the rights of citizenship. That includes marriage. That's why I support marriage for lesbian and gay couples. I support it personally and as a matter of policy and law," she said in the statement.
Clinton called marriage "a fundamental building block of our society," and with a knowing laugh, called marriage a great joy and yes, a great responsibility.
"A few years ago, Bill and I celebrated as our own daughter married the love of her life, and I wish every parent that same joy," she said.
"Like so many others my personal views have been shaped over time by people I have known and loved, by my experience representing our nation on the world stage, my devotion to law and human rights and the guiding principles of my faith," Clinton said.
"I know that many in our country still struggle to reconcile the teachings of their religion, the pull of their conscience, the personal experiences they have in their families and communities," Clinton said.
"And people have good will and good faith will continue to view this issue differently. So I hope as we discuss and debate, whether it's around a kitchen table or in the public square, we do so in a spirit of respect and understanding," she added.
Arguing that gay rights are human rights, Clinton said for those who lived through the long years of the civil rights and women's rights movements, the speed with which more and more people have come to embrace the dignity and equality of LGBT Americans has been breathtaking, and inspiring.
"We see it all around us, every day, in major cultural statements and in quiet family moments. But the journey is far from over, and therefore we must keep working to make our country freer and fairer."
No sooner the video was posted by Human Rights Council on its website, the American news media and the social media was abuzz with speculation that this was the first indication of her running for the 2016 presidential elections.
"The news is especially relevant given the possibility that Clinton might run for president in 2016, when gay rights will likely be a major issue in the Democratic primary," The New York Times said.