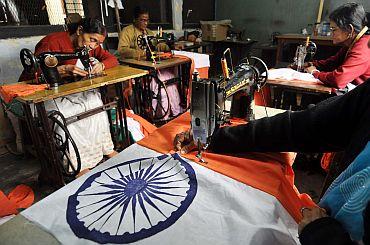 Even though the insurgent groups in the Northeast make an all  out efforts every year to stymie celebrations of the two most important days for nation-- Independence Day and Republic Day -- they have failed to rob the sheen of the Indian national tricolour that has remained close to the heart of the people of this troubled region.
That is the main reason why the staff in the workshop of Khadi and Village Industries Board in Assam have to work overtime to meet the demand for tricolours of different sizes in the run up to Republic Day and Independence Day celebrations every year.
The scene is no different this year too. Women workers in the workshop at the headquarter of Assam's Khadi and Village Industries Board in Guwahati are busy in making as many tricolours as possible.
They will have to make 20,000 of those well before January 26. The board's workshop in the headquarter can produce 100 national flags per day.

One of woman workers in the workshop said till date they had made 12,000 tricolours of different sizes and out of those 3,000 had already been sold from the retail outlet at the board's headquarter.
Some of the triclours are being sold through the retail outlets of the board in different district headquarter towns of Assam.
The board makes flags from different sizes. The biggest one being 6 ft X 4 ft in size and the smallest one is a car flag. The prices range between Rs 350 to Rs 40 per piece.
An official in the board informed that on an average a women worker at the workshop can make five flags of biggest size (6'x4') per day and 50 car flags day.
Image: Women stitch the Indian national flag at the office of the Assam Khadi and Village Industries Board ahead of the Republic Day celebrations, in Guwahati, on Saturday
Click here for more Realtime News on Republic Day celebrations!