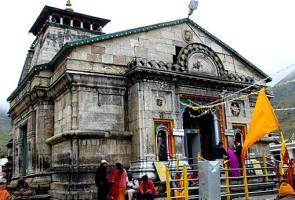 The pilgrimage to Kedarnath was suspended on Wednesday for three days in view of the weather department's warning of heavy rains in the area and frequent blockage of roads to the Himalayan shrine following intermittent showers in the valley over the past few days.
The yatra to Kedarnath has been suspended for safety reasons till July 18 in view of the India Meteorological Department's warning of heavy rains in the area," Rudraprayag District Magistrate Raghav Langar said.
Another reason for suspension of the pilgrimage is that both motor roads and the 21-km trek route from Sonprayag to Kedarnath is frequently blocked following showers in the area, he said.
About 200 pilgrims, who had gone to the Himalayan shrine to pay obeisance, are being gradually brought down. Thirty-five of them have already reached Sonprayag and the rest will also follow, Langar added.
Asked whether the yatra will be resumed on July 19, the DM said much would depend on the weather and the condition of roads.
All the major rivers and their tributaries including the Alaknanda, Ganga, Mandakini and Bhagirathi are steadily on the rise with rains lashing most parts of the state in varying degrees over the past few days. However, the yatra to the other three Himalayan shrines of Badrinath, Gangotri and Yamunotri continues though on a low key due to bad weather.
The MeT department in Uttarakhand had on Tuesday issued a warning of heavy rains in different parts of the state over the next three days prompting authorities to sound a general alert in the state which was hit by a huge natural calamity last year.