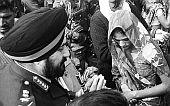 Kherar, a sleepy village in Mathura district of Uttar Pradesh, has been re-named as Shernagar in honour of slain soldier Lance Naik Hemraj, who was killed during a skirmish with Pakistani soldiers in Mandher sector along the Line of Control on January 8.
The village youth were bristling in anger when Indian Army chief General Bikram Singh drove down the make-shift road of otherwise neglected village to meet Hemraj's wife Dharmvati and gave her a patient hearing.
"I would like to retaliate with an iron hand, but my hands are tied," General Singh said in an emotionally-charged speech.

The army chief said: "I have come here to express solidarity with martyr's family. All their demands will be met according to the rulebooks of the Army. We will stand by the family."
"We will do everything possible for the family, including providing education for the children at the army school. The village youth want to join the army. We would look into their demands and try to induct them into the Rajputana Rifles regiment," he added.

Long after he had left the place after a brief interaction with Hemraj's family, villagers were seen echoing the General's words.
"We want to give a befitting reply to Pakistan. We want to avenge our brother's brutal killing. A brick for a brick and a head for a head is our manner," Sherpal, also a Thakur by caste.
"He may be no more, but his sacrifice will change the lives of Shernagar," Om Pal told
rediff.com
.
The army chief's visit to Shernagar came a couple of days after Hemraj's family demanded so as their condition to end their indefinite hunger strike. They had, however, ended their fast after Chief Minister Akhilesh Yadav's visit to the village on Monday.