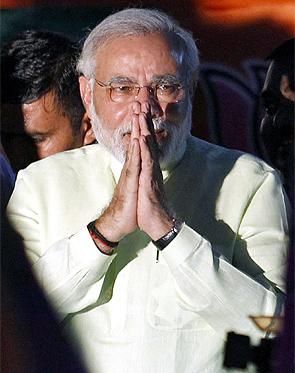 Gujarat Chief Minister Narendra Modi turns 63 today, and he has one more reason to celebrate this year.
He was recently anointed the prime ministerial candidate of the Bharatiya Janata Party, taking him just a step away from the most important job in the country.
The elevation of Modi has not been without hiccups, though, with senior leader LK Advani going into a sulk over it, much to the Congress party's jubilation.
Even as the BJP makes efforts to paper over the differences and present a unified face, Modi has hit the road running, as it were.
Do YOU, dear reader, have a birthday message for Narendra Damordas Mulchand Modi?
If so share your message, suggestions and wishes for the man who could be India's next prime minister.
Post your comments on the message board below!