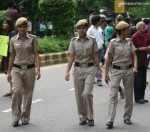 The Centre on Monday asked all state governments to increase the number of women in police forces to 33 per cent, saying an environment must be created for women and weaker sections to visit a police station without difficulty.

Noting that women comprised just 3.98 per cent of the country's total police forces, Union Home Secretary R K Singh said, "If there is women police, women complainants will feel more secure, comfortable in visiting a police station. We think 33 per cent civil police -- constables and sub-inspectors should be women."

Addressing a conference in New Delhi of chief secretaries and directors general of police of all states, he said, "We have suggested to the Delhi police to increase the number of women personnel and we suggest you all to do the needful to achieve this target."

The conference has convened in the wake of the brutal gang-rape and assault of a 23-year-old girl in Delhi.

Singh said an atmosphere should be created where women and weaker sections of the society get the ability to launch a complaint without facing difficulty. He said in cases like molestation, the very thought of going through the ordeal to brief the policemen about the incident dissuade many to go to a police station and that has to be changed.
"It is high time, as a country we have to woke up. Our inability to protect women and weaker sections of the society is a huge, huge problem," he said.
The home secretary said investigation of any case has to be time-bound and, according to CrPC, it has to be completed in 3 months.
"Justice delayed is justice denied. This is the biggest problem. If the case is delayed, witnesses are not coming forward and there are many more problems. We have to get the trial start quickly," the home secretary said.
Singh said the home ministry has taken the initiative to set up fast-track courts across the country to deal with cases of crime against women and weaker sections of the society.
He said every police officer should be responsible, responsive and there should be change of attitude of police and policing.
"Investigation has to be sensitive. There should not be any hesitation in suspending any policeman who refuses to register a complaint. That is in law. Not registering any complaint is violation of law," he said.
Singh said people face ordeal in every step. "That has to be changed. For the weaker sections, women or the poor, visiting a police station is an ordeal. To know the status of any compliant, without taking the local MLA along, it is impossible," he said.
The home secretary said the government has taken some steps but that was not enough as there should be change in attitude.
"We have to educate people to respect women, SCs, STs. We have to address the problem through social messaging, curriculum, through education. A beginning has to be made. We have to build infrastructure for women's safety. We have to ensure dignity of life," he said.