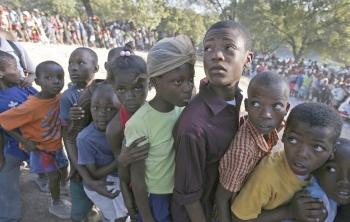 "It's a nightmare over here," says Eddy Handal. "There's no electricity, no water. Nothing, nothing, nothing, nothing! Absolutely nothing."
Handal is the honourary consul to India in Haiti, and he has been in touch with his superior, Ambassador Mitra Vashist in Havana in Cuba, the 140 Indian personnel making up the Formed Police Unit, and the Missionaries of Charities there.
"The situation is very critical. While there is a lot of help coming, in the form of food, food is not being properly distributed," says Handal, who is thankful to have survived the calamity along with his family.
The biggest problem is the looting, says Handal. While the security forces don't want to take decisive action because the looters are desperate and poor, the honourary consul believes there is a need for more active enforcement to ensure people get what they need.
Asked if enough food was not being supplied, Handal replied, "They have started already but they are too slow. When they come to give it, [the people begin] fighting to get it."
Once they start fighting, the truck just goes away.
"The government says 80,000 are dead but sometimes, when debris is piled up in trucks, you can see there are bodies inside -- and they just go and dump it. They cannot control that. We don't have any equipment," he says.
The only Indian casualty, says Handal, was Satnam Singh, or Sunny, an Indian immigrant who came in from Canada and who was working at the United Nations base at the Hotel Christopher in Port-au-Prince when the earthquake hit.
Among the dead were Hedi Annabi, who ran the UN peacekeeping mission in Haiti, and Luiz Carlos da Costa, the assistant secretary general.
Handal said a reunion is being organised for the few Indians on the island.
And he is full of praise for the Indian personnel in the FDU.
"They have been amazing. They have been helping all over," says Handal, adding that the FDU too had problems to deal with -- among them the shortage of rice, a problem he is trying to resolve.
Through his superior Vashisht, who visited Haiti a few days ago, Handal has sought for Indian doctors and medicines, some of it for the work being done by nuns of the local Missionaries of Charity, nine of them are from India. The nuns, led by Sister Genova, had used up all their medicines and wanted more, he said. But none of it was for themselves.
"Thank god they are fine; they are in good health," says Handal.
Image: Boys and girls keep in line for food and water at a tent encampment in Port-au-Prince | Photograph: Hans Deryk/Reuters