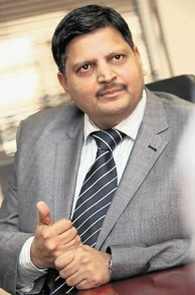 A controversial lavish Indian wedding in South Africa has created a rift between President Jacob Zuma and the ruling African National Congress, according to a media report on Monday. Zuma and ANC secretary-general Gwede Mantashe have allegedly fallen out over the Gupta plane saga, the Independent Online reported quoting its sources.
The Gupta family, which has close ties to Zuma, made global headlines when a plane, chartered by them, carrying around 200 guests from India, landed at Waterkloof Air Force base on Tuesday without proper authorisation.
The use of the Waterkloof Air Force Base by the Guptas had been the final straw for Mantashe, who privately expressed concern about a perception that the family wielded too much influence in government and ANC affairs, the report said.
Mantashe's supporters had since thrown their weight behind ANC deputy president Cyril Ramaphosa after reports that some of Zuma's allies planned to block him from taking over as ANC president in 2017, it said.
Five officials have since been suspended and nine Tshwane metro policemen arrested over the wedding controversy. Mantashe declined to comment. "I don't deal with bureaucrats in government. I do not know who these ANC leaders are and I can't talk to an imagined person."
ANC national spokesman Jackson Mthembu dismissed suggestions that Zuma and Mantashe had fallen out. He said this was old "bulls" peddled by people who wanted to sow divisions among the ANC leaders.
According to two government sources and two ANC insiders, the Gupta plane scandal had also divided cabinet members. This was the main reason why most of the invited ministers had "boycotted" the wedding.
The Gupta family, which owns The New Age newspaper and Sahara Computers, celebrated the wedding of Vega Gupta, 23, to India-born Aaskash Jahajgarhia at Sun City on May 3.
The wedding, billed as 'the South African wedding of the century', also had Bollywood actors and singers flying in for an extravagant celebration.
Earlier, Atul Gupta, the billionaire businessman had apologised to Indian and South African governments as well as to the public for triggering the scandal.