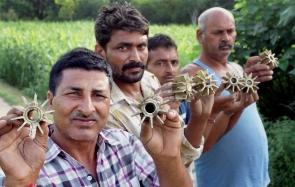 Guns fell silent along the Indo-Pak border in Jammu after a fortnight of continuous firing by Pakistani troops and shelling exchanges in which two civilians were killed and 17 others injured in 22 ceasefire violations.
"Borders are calm. There was no ceasefire violation along the International border in Jammu and Samba sectors," Border Security Force officer Vinod Yadav said.
"Guns have fallen silent after strong retaliation," he said.
"After a fortnight-long firing and shelling, there has been peace along the border during the night. The entire border belt had been disturbed due to it. It was a tough time dealing with the situation," sub-divisional police officer, R S Pura, Devender Singh said.
As calm returned, many border dwellers reportedly rushed back to their villages.
There have been 21 ceasefire violations by Pakistan in less then a fortnight and 23 in the month of August. Since July 16, there have been 33 ceasefire violations.
Image: Residents of Chandu Chak display mortar shells allegedly fired on their village by Pakistani troops, in Jammu. Photograph: PTI Photo