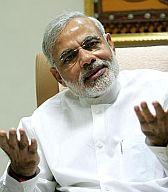 The Special Investigation Team, which is probing the 2002 Gujarat riots cases, has summoned state Chief Minister Narendra Modi in connection with the Gulbarg society massacre, in which 62 people, including former Congress Member of Parliament Ehsan Jafri, were killed. 
"We have today issued a summons to the chief minister after examining witnesses in the Gulbarg society case," said SIT chief RK Raghavan. 
He added, "The CM has been asked to appear before the SIT on March 21." But he refused to divulge further details. 
"We are coming to the end of the inquiry and our inquiry may possibly conclude with with this," Raghavan said.
Jafri's widow Zakia has relentlessly been pursuing the case and has named the chief minister and other important leaders as accused in the alleged conspiracy to kill the former MP and others in a systematic anti-minority riots that had engulfed the state in 2002. 
Zakia had filed a 100-page complaint alleging the involvement of Modi and 62 others in the murder of her husband.
This the first time the CM has been summoned by any authority in connection with the riots.
Modi, his cabinet colleagues, police officials and senior bureaucrats in the state at that time have been accused of aiding and abetting the carnage targeted at the minority population in the state.