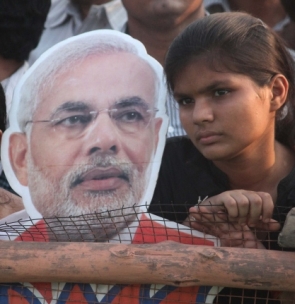 The Gujarat snooping controversy on Tuesday reached the Supreme Court, with suspended IAS officer Pradeep Sharma urging it to take cognisance of the audio tapes aired by news portals, saying it contains proof of how the state government had tried to frame him in "frivolous" cases.
A bench headed by Chief Justice P Sathasivam asked Sharma to file an affidavit after the Gujarat government counsel submitted that no oral arguments should be allowed to be made till something is placed on record.
At the outset, advocate Prashant Bhushan, appearing for Sharma, submitted that an important development has taken place (referring to the audio tapes) since the last hearing and the case needs to be heard urgently.
The bench, also comprising justices Ranjana Prakash Desai and Ranjajan Gogoi, then asked Sharma to file the affidavit and posted the case for hearing in the first week of December.
Two investigative portals, Cobrapost and Gulail, had claimed on November 15 that Amit Shah, the former home minister of Gujarat and Modi's close aide, had ordered the illegal surveillance of a woman at the behest of one "sahib".
They had released the taped conversation between Shah and an IPS officer to back up their claim.
Sharma, a 1984 batch IAS officer, is facing five criminal cases, including a case for alleged irregularity in land allotment to private firms in Kutch district in 2008.
In his petition, he had made some references to the personal life of Modi, but the court on May 12, 2011 had directed him to remove those portions, which was accepted.
Sharma, who last served as the Bhavnagar municipal commissioner, was arrested on January 6, 2010 in a case involving alleged irregularities in Kutch earthquake rehabilitation.
The IAS officer alleged that he is being targeted by the Modi government because his younger brother Kuldip Sharma, a senior IPS officer in the state, has "unmasked" many misdeeds of Modi since the Godhra riots. Sharma sought that the probe in these cases be handed over to the Central Bureau of Investigation.
"The petitioner happens to be the brother of Kuldip Sharma who has unmasked many misdeeds of Narendra Modi and Amit Shah, the ex-home minister, since the 2002 Godhra riots. The two siblings have been very close to each other right from childhood and share very strong fraternal bonds. In order to cause prejudice to Kuldip Sharma, the petitioner has been victimised by Chief Minister Narendra Modi and Amit Shah," the petition said.