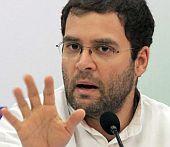 Congress General Secretary Rahul Gandhi will be campaigning in poll-bound Gujarat on Tuesday.
He will address meetings at Sanand in Ahmedabad in central Gujarat and at Jamnagar and Amreli in Saurashtra regions.
Gujarat Election Coverage | Check out the Rediff forecast
Congress President Sonia Gandhi and Prime Minister Dr. Manmohan Singh have already campaigned in the state.

Asserting that there is large-scale corruption in Gujarat, Sonia on Monday described the Narendra Modi-led BJP government as anti-people.
 
Addressing a rally in Siddhpur, Sonia said: "According to news reports, wrong-doings are going on in Gujarat. We have known about CAG reports (talking about corruption). There is large-scale corruption in Gujarat."
 
Urging voters to give a courageous and befitting reply to the BJP government's false, and dictatorial government, Sonia said: "We have to change Gujarat and bring it back to the right path of development. We will strive to come to power to achieve this. People will give a befitting reply to this anti- people government."
 
On Sunday, Dr Singh appealed to the voters of Gujarat to get rid of politicians indulging in divisive politics.
 
"We don't indulge in politics of dividing the society like the opposition parties. Such politics cannot benefit any political party for a longer period. Time has come that you people should rid Gujarat of such politics and don't let such people come to power who try to get votes by dividing our society and country," he said while addressing a rally in Vansada.
 
Dr Singh further said the public health sector was not in a good state in Gujarat and new employment opportunities for the youth were also not being generated.
 
"Development in Gujarat is only for a few people. A big portion of the population here has remained untouched by this economic development. Because of the policies of the state government, there is an imbalance in the society," he said.
 
Gujarat will go to the polls in two phases on December 13 and 17. The counting of votes will take place on December 20.