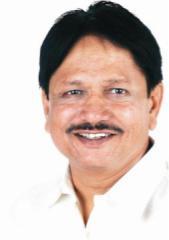 About 5,000 voters, with dual registration in the electoral lists in Mumbai and Gujarat's Sidhpur assembly segment, are all set to vote against Bharatiya Janata Party's Jay Narayan Vyas in the second phase of polling in Gujarat on December 17, claimed Dilipbhai Patel, a BJP corporator in the Brihanmumbai Municipal Corporation.
These 5,000 people, Patel told rediff.com over the phone, belong to Mumbai's Goregaon, Jogeshwari and Malad suburbs.
"We have forwarded the necessary documentary evidence proving dual registration of these voters to the chief electoral officers of Maharashtra and Gujarat, and to Mumbai Police Commissioner Satyapal Singh with a copy to local police stations in Andheri, Malad and Jogeshwari where these voters live," Patel said.
Complete Coverage | Rediff forecast
Dilip Patel in his letter has named three persons from Mumbai's Western suburbs as having paid Rs 5,000 to each of these voters for casting their vote in Sidhpur, and that the trio has even arranged for trains to take them voters to Gujarat. 
Yusufbhai Kadadiya, a relative of one of the three persons named in Patel's letter, told rediff.com that they have appointed a lawyer and are mulling legal action against the latter for defaming them. 
Patel, however, is unfazed. "This is unconstitutional and a criminal offence. We have requested the Mumbai police commissioner and local police stations to arrest them and prevent them from voting in Sidhpur. We are also requesting these voters not to indulge in unconstitutional activities," he added.
Patel also alleged that Congress candidate from Sidhpur Balvantsinh Rajput has promised them an additional Rs 5,000 once they have voted for him. Incidentally, Rajput is the richest candidate in Gujarat with declared assets of Rs 268 crore.
While Rajput had defeated Jay Narayan Vyas in the 2002 election by a margin of 8,000 votes, the latter wrested the seat from Rajput in 2007 by a margin of 2,400 votes.
"In 2002 two trains had been booked by the Congress to facilitate the transfer of these voters to Sidhpur. The Congress wants to defeat me anyhow as this has been one of the top five traditional seats the Congress wins and I had defeated their candidate in 2007," said Jay Narayan Vyas over the phone from Sidhpur.
Rajput said there was nothing new in these allegations. "My opponents are indulging in false propaganda. This happens every year. I have nothing much to say about these allegations. Let the Election Commission officials investigate," Rajput told rediff.com. 
Image: BJP corporator from Mumbai, Dilip Patel, who is making the allegations