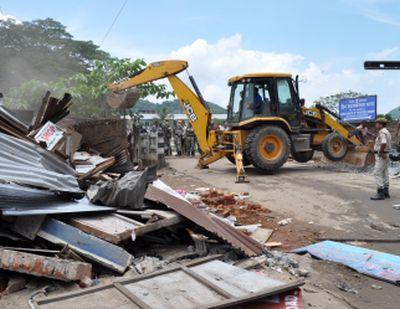 In the wake of the devastating flash floods triggered by heavy downpour in Guwahati last week, the administration has resorted to a massive eviction drive to clear water ways and natural water bodies in and around the city of encroachers.
Water logging along the natural stream and on water bodies is believed to be the main reason for flash floods in Guwahati city after heavy downpour every monsoon.
The eviction drive that started on Monday morning has triggered clashes between encroachers and government eviction party. Police have arrested many persons for trying to resist the move.
Flash floods killed at least 11 persons in Guwahati city and kept many areas inundated four days since June 26.
The administration has drawn up a plan to clear encroachment within 15 days. Due to rampant encroachment water carrying and retaining capacity of these natural water bodies have substantially reduced over the years. The administration has identified Bharalu River, Bahini stream, Mora Bharalu stream and Silsako Beel for carrying out the eviction drive.
So far, the eviction drive has been carried out at stretches along both sides of Silsako Beel and along the Bharalu river in G S Road, Birubari and Cherapbhati, Basistha area along Bahini stream where a large number of structures have been uprooted and the land has been dug deep to make ways for water to flow through these water bodies.
The Assam government on Tuesday stopped construction activities at 'Sristi Nagar' -- a massive housing project on 750 acres of land including some hill area along the course of Brahmaputra River in the city. The government has issued the order to stop construction even though the Guwahati Metropolitan Development Authority gave permission for the project.
The affected people have alleged that they were not given proper eviction notice by the administration but an official said that there was no provision in the existing law to give prior notice to evict encroachers from stream and water bodies.
Kriskah Mukti Sangram Samity, an influential organisation of landless people and farmers have termed the eviction drive an eye wash and directed at poor encroachers. They dared the government to demolish big buildings constructed illegally on water bodies by influential persons and businessmen.