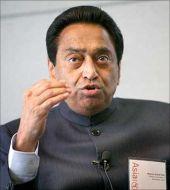 The government on Friday said it was not averse to a Joint Parliamentary Committee probe on the Italian VVIP helicopter deal, a move seen as an attempt to ensure a smooth budget session of Parliament commencing next week.
"We are ready for any investigation. There should be consensus in Parliament on what further steps need to be taken. The government is not averse to a JPC if required," Parliamentary Affairs Minister Kamal Nath told NDTV.
Asserting that there is nothing to hide and "we must get to the bottom of this (controversy)", he said there should be a "healthy discussion over the issue in Parliament".
Earlier in the day, Law Minister Ashwani Kumar said suitable action would be taken after obtaining evidence from Italy on alleged kickbacks in supply of Rs 3600 crore worth of 12 AW 101 VVIP helicopters.
"... After there is some evidence on whether or not any illegality took place, suitable action would be taken," Kumar told reporters in New Delhi.
He said since the issue was brought to notice from disclosures made in Italy, the Indian government has asked the government of Italy to provide details to establish payments to anyone in India.
He said the Central Bureau of Investigation is expected to take action after getting details from Italy.
Following reports in Italy on investigation in the alleged scam in a defence helicopter deal with Italian firm Finmeccanica, the government has made a fresh request for information in the matter.
The Union defence ministry has issued a show cause notice to AgustaWestland asking it to explain within seven days the bribery allegations. The notice also asked the company why the deal should not be scrapped.