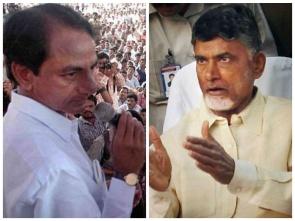 Andhra Pradesh and Telangana Governor E S L Narasimhan briefed President Pranab Mukherjee in New Delhi on Wednesday about his success in sorting out differences between Chief Ministers Nara Chandrababu Naidu and K Chandrasekhar Rao.
Narasimhan is hoping his efforts will bear fruit by early September. He brought a two-page report with eight salient points in which he listed out the broader theme formalised during the meeting of the two warring chief ministers.
The governor is expected to meet Prime Minister Narendra Modi on Friday.
During his 35-minute meeting with the President many issues came up. Narsimhan told Mukherjee, "It is crucial to sort out issues relating to 50,000 government employees and the division of 127 institutions which belonged Andhra Pradesh."
He said he had full confidence in the two chief secretaries who are working out a peace formula.
Union Home Minister Rajnath Singh and Law Minister Ravi Shankar Prasad, who were at the briefing, seemed happy with the settlement.
He said there were three key issues: Legislature accommodation (sharing of legislature buildings), distribution of employees and sharing of state-level educational institutions.
"The issue of legislators' accommodation has been resolved. On distribution of employees, the Kamalanathan committee has been set up. The committee is looking into distribution of 67,000 employees belonging to the state cadre, of which 22,000 vacancies are there. And only 45,000 employees are to be divided. We have told the chief secretaries to sit and discuss the issue... they will sort out that problem."