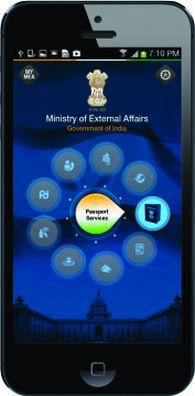 Want passport or consular assistance on the go? Want to follow the Prime Minister on his visits abroad? Want to post questions to the foreign minister anytime, anywhere?
For the first time in the world, a country's Foreign Ministry has been able to integrate and consolidate its entire digital presence in one's hand, thanks to 'MEAIndia' app.
The MEA envisages the application be a "one-stop shop" for you.
From getting updates from all the 124 Indian missions in the world, to getting information for consular access in case you are abroad, to booking yourself for the Kailash Manasarovar Yatra, everything is now available on your fingertips.
"It's a one stop shop to give you all you need to know," said outgoing Foreign Secretary Ranjan Mathai after inaugurating the app at an event here. He retires July 31.
And in what could be a record of sort, the mobile application project was completed in just a little under six months.
The MEA is the first government department to have a mobile app for smartphone users.
It will provide details of all citizen-centric services of the MEA like passport, visa for those travelling to India and Haj related details among others.
"We were a little reticent when we started this process about six months ago... and it is over in little less than six months," Ministry of External Affairs spokesperson Syed Akbaruddin said.

The main people behind the creation are two young techies from Silver Touch Technologies -- Prakash Srivastava and Sarla Meghnani -- and young IFS officer Vishnu Vardhan Reddy besides Akbaruddin and Foreign Secretary Ranjan Mathai.
Besides providing vast information on India's foreign policies and activities, one can even take part in quiz and win Rs 1000 e-vouchers for buying books.

Not only that, you can even throw a question at the External Affairs Minister and he will answer two of the most voted query every month.
One can even follow Prime Minister on his official visits abroad and get updates as they happen on his programmes, meeting, outcome among others.

Users can also download and watch pictures and documentaries on India, share and contribute their own pictures and suggestions.
In case a person is travelling abroad and is in need of emergency consular assistance, the app will help him to find the nearest India Mission/Post and establish contact with officials there.
Also, in case you are planning to travel abroad for work or study and you need to legalise your documents, the app simplifies the steps involved for you and helps you identify the authorised agencies for attestation of your documents.
"The requirements of communications have changed and evolved and so have we in the Ministry of External Affairs.

"We have adapted and adopted to these new demands of technology and means of communications," Mathai said.
He said the Ministry is poised to take the audio route and has agreed with Prasar Bharati to tie up for a regular programme on FM Radio on India's foreign relations.