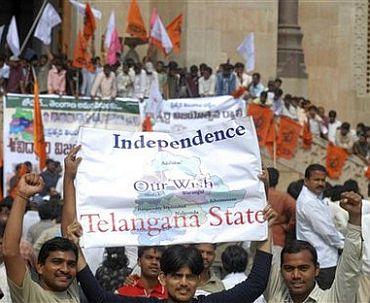 The Group of Ministers on Telangana is set to discuss the draft bill for the creation of the new state on Saturday.
Union Finance Minister P Chidambaram is expected to attend and articulate policy issues pertaining to fiscal and legal issues regarding Telangana at the meeting. Union ministers Veerappa Moily, Jairam Ramesh and Gulam Nabi Azad are likely to be present at the meeting to discuss the draft bill.
Defence Minister A K Antony, who is recovering from his recent prostrate surgery, will not be attending the meeting.
Earlier, Union Minister for Rural Development Jairam Ramesh met Antony and coordinated with the Union home secretary on the agenda for Saturday's meeting.
According to a source, the meeting is likely to be interesting as there will be a PowerPoint presentation showcasing the differences and similarities and the crucial issues regarding Telangana, and comparing those with the bills prepared for the creation of smaller states during the National Democratic Alliance regime.
The GoM in its first meeting directed the two additional secretaries in the Union ministry of home affairs -- K Skandan and Rajeev Sharma -- to prepare a status paper on the sharing of natural resources.
This document is based on the replies from secretaries of petroleum, water resources, mines, human resources development, and road transport ministries -- on sharing, authority and the bifurcation of central universities, national institute of technologies, minerals, offshore gas, oil explorations and other related policy issues.
The source added that the GoM will strictly adhere to its terms of reference.
Skandan and Sharma, who have previously dealt with the committee headed by Justice B Srikrishna (on Telangana), will be assisting the GoM -- both have detailed knowledge of the issues pertaining to Andhra Pradesh and Telangana. Sharma is likely to brief the GoM on Saturday.
The third meeting of the GoM, which is likely to be held in November, is likely to take up the issue of Hyderabad as a Union territory -- and bring the legality terms to the draft bill.