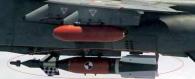 By the end of next year, Indian fighter planes could be equipped with indigenously-developed 'glide bombs', which will be guided to their targets for precision attacks.
The first-of-its-kind bomb in the country, being developed by the Defence Research and Development Organisation, will boost India's strike capabilities as targets can be hit even beyond the range of a fighter aircraft.
The DRDO is working on developing glide capabilities on the existing bombs of various payloads including 100 kg, 250 kg and 500 kg.
"We are developing glide bombs which can be directed towards their intended targets using guidance mechanisms after being dropped from an aircraft," said outgoing DRDO chief V K Saraswat.
"Such a capability will allow the IAF pilots to drop the bombs at their intended targets from stand-off distances as the glide capabilities will help in enhancing the range of the bombs," he said.
The DRDO has already carried out two trials of such bombs successfully and plans to hold more trials this year for proving the capabilities of the ammunition.
"By the end of the next year, we want to complete all the development trials of the glide bombs before offering it to the IAF," he said.
The outgoing DRDO chief said the organisation is also in the process of developing an anti-radiation missile, which will multiply the strike capabilities of the armed forces by destroying the enemy's advance warning system.
Such missiles can be mounted on Sukhoi fighter planes Su-30 MKI.
These missiles can detect a radar by tracking its electro-magnetic radiation and pulses generated and these would be independent of the radar wavelength and be able to destroy it.
Such missiles, currently used by some nations including the United States, can detect and attack a radar antenna or transmitter with minimal aircrew input.
Listing the successful test-firing of the over 5,000 km range Agni-5 missile as the "crowning glory" of his tenure as DRDO chief, Saraswat said more lethal versions of the missile would be developed.
He said the DRDO was working on producing a variant of the missile with Multiple Independently Targeted Re-entry Vehicle warheads.
This MIRV capability would make the missile capable of carrying multiple warheads to destroy several targets in one go.
Terming it as a "force multiplier", he said, "I will be able to do force multiplication with this, where I was using four missiles, I may use only one missile."
He said a few more tests of the missile would be done before it is ready for induction into the armed forces.
On the joint venture programme to develop Medium-range Surface to Air Missile and long-range SAM with Israel, he said the programme has been delayed by two years due to some technological problems.
India and Israel have formed a joint venture under which the IAF and the Navy would get these missile systems.