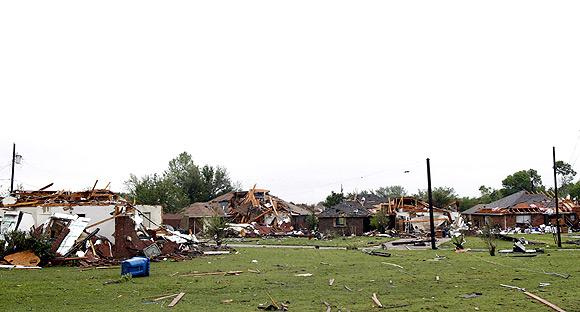 A severe spring tornado slammed parts of the southern American state of Texas, demolishing several homes, killing at least six people and injuring over a 100. The police reported that the hardest hit areas were the Rancho Brazos subdivision and adjoining areas in the town of Granbury where the tornado struck last evening at about 8 pm.
"It was horrible," a witness said. "The house started shaking. It sounded like a train coming on," he said. Another witness described it as "hell".
People with minor injuries could be seen helping those with more serious injuries, he said. Authorities said emergency workers were doing a house-to-house search of the affected neighbourhoods.
Heavy rain continued to fall in the area during the rescue efforts. One man reported "widespread damage" saying he saw houses blown to pieces but said he had not seen the worst-hit areas.
Others said homes in the area were levelled. "There's nothing left," one man said. Emergency responders were preparing for possible mass casualties in the area.
A triage centre has been set up at Davis and Canyon roads. A large number of police and emergency vehicles are at the scene, and there are reports that school buses are being called to help transport injured people.
The tornado was part of a system of severe thunderstorms that spawned several other tornadoes across North Texas and dropped large hail in some areas. Storm spotters reported another mile-wide tornado moving toward Cleburne town, 40 kilometres southeast of Granbury. People in the area were urged to take shelter.
Heavy damage was reported in Cleburne, but estimates were unclear. Cleburne has seen heavy winds of upto 130 kilometres per hour. There were also reports of another tornado in HoodCounty at about the same time. Another tornado hit the small town of Millsap, about 60 kilometres west of Fort Worth.
Parker County Judge Mark Kelley said roof damage was reported in several houses and a barn was destroyed, but no injuries were reported. Hail up to the size of grapefruit pelted the area around Mineral Wells last evening, but police reported only minor damage.