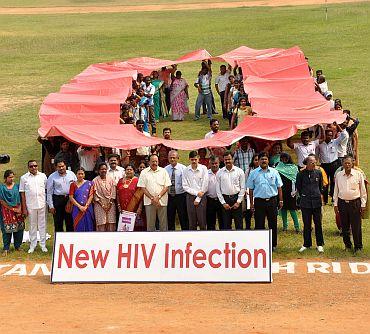 The World AIDS Day 2012 Campaign theme of the United Nations is "Getting to ZERO". 


"Getting to Zero" means zero new infection, zero discrimination, zero HIV/TB infection, zero human rights violation against HIV-affected people, and zero AIDS-related deaths.


"These are the five zeros we would be working on in the next five years. Only one third of the 15 million people living with HIV are not getting lifelong treatment and new infections outnumber the the number of people who are in need of treatment. So, zero infection has to be the target for all of us who are working in this field," explained A J Hariharan, secretary, ICWO (Indian Community Welfare Organisation, an NGO working with sex workers and their children on HIV/AIDS).


The new 'Getting to Zero' campaign started by the UN on Saturday will go on till 2015.
An event was organised by ICWO along with Actionaid, TANSACS, REACH and RI District 3230 in which 500 college students participated to start the new campaign of the UN on the World AIDS day.

The college students took oath that they would not discriminate those affected with HIV/AIDS and also would spread the message of zero discrimination across.

Photograph: Sreeram Selvaraj