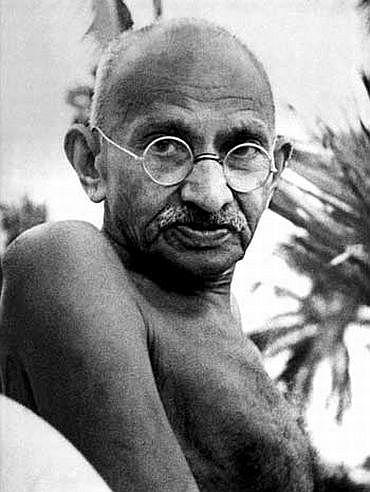 Mahatma Gandhi's iconic round spectacles have gone missing from Sevagram Ashram in Wardha district of Maharashtra.
Ashram inmates noticed on Monday that the specs of the Father of the Nation was not found along with his other belongings kept in a locked showcase at a museum within the premises, 75 km from Nagpur.
The ashram, which receives about three lakh visitors annually, is celebrating its platinum jubilee later this week (June 15-16).
The ashram -- once Gandhi's abode -- has put on display his personal belongings, including a pen stand, spectacles and a bathroom brush at the museum.
Aakash Lokhande, the manager of Sevagram Ashram, said that the pair of spectacles might have been stolen by unidentified persons sometime back, but it came to light only on Monday when the ashram inmates, who clean the articles periodically, found it missing.
Other personal articles of the Mahatma are safe, Lokhande said.
"We have not lodged a formal complaint with the police so far but Wardha police have visited the ashram," he added.


Sevagram Ashram president M M Gadkari confirmed that spectacles have been missing. "The issue would be discussed in the next meeting of board of trustees and a decision as to whether formal police complaint should be lodged would be taken," he said.
Sevagram Ashram was set up by Gandhi in 1936. Since he stayed there, it became a de-facto headquarters of Congress for some time. The Quit India resolution was passed in July 1942 at Sevagram.
Gandhi left Sevagram in 1946, to quell the riots in some parts of the country, never to return.
The spectacles had been donated to the ashram by Gandhi's daughter-in-law Nirmalaben Gandhi, who lived at Sevagram till her death.
Superintendent of Police (Wardha district) S M Waghmare told PTI that he visited the ashram in the morning and inspected the entire area.
"I am still waiting for a formal complaint from the ashram members, so that we can investigate the matter," he said. By late evening, ashram authorities were in the process of lodging a formal complaint, sources said.