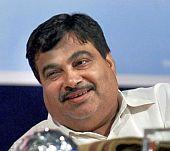 BJP president Nitin Gadkari will chant a new mantra for Ramrajya (welfare state), good governance and antyodaya (taking benefits of development to the last person) in the ensuing national executive slated for February 17, followed by a two-day national executive meeting at Indore.
The proposed mantra will be in addition to the BJP's much-debated slogan of Sangathan (Organisation), Samrachana (Constructive Work) and Sangharsh (Fight for cause).
Gadkari told Business Standard on Monday, "The adverse effect of Soviet Union model accepted by India are now quite visible as poverty has risen by 12 per cent. The BJP will strive for a welfare state and 'antyodaya' to reduce poverty and increase job opportunities so that benefits of progress reach the last person. This will be possible through good governance."
He emphasised on effective implementation of public private partnership (PPP) whereby reliance on budgetary allocation for various developmental projects can be reduced.
Gadkari said: "Agriculture and agri-processing, decentralisation of industry, exploring renewable energy sources to meet rising demand, irrigation and water management projects will have to be implemented on war footing. Besides, state-level employment generation projects need to be implemented in a time-bound manner."
These issues would find place in the economic resolution.
In its political resolution the party is expected to spell out its strategy of rewards and punishments for the party members and reiteration of zero tolerance for indiscipline. Gadkari would also explain his move to bring in accountability for party members.

Moreover, the political resolution would at length took stock of the situation of internal security and reiterate its stand that terror and talks cannot go together.

Meanwhile, Gadkari at a three-and-half hour meeting with the Karnataka chief minister and his council of ministers on Monday asked the BJP-led government to prepare a time-bound programme for making the state load-shedding free in next two years and launch a new policy for employment generation.