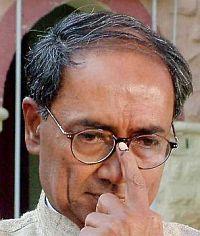 Bharatiya Janata Party President Nitin Gadkari on Monday slapped a criminal defamation case against Congress leader Digvijaya Singh for accusing him of having business links with his party MP Ajay Sancheti who allegedly pocketed Rs 500 crore in coal block allocation.

Singh had recently made statements that Sancheti was Gadkari's business partner and had earned a huge profit of around Rs 500 crore in coal block allocation, senior advocate Pinky Anand, appearing for BJP leader, told Metropolitan Magistrate Sudesh Kumar.

Denying that Gadkari has any "direct or indirect" business relations with Sancheti, Anand said Singh's statement, which was widely reported by the media, had the "clear intention to malign the reputation of the complainant."

After the brief submission advanced by Gadkari's counsel, the court decided to record the statement of the BJP president who was also present during the hearing.

The magistrate asked the media to vacate the court room before he started recording Gadkari's statement.

During the hearing, Gadkari's counsel told the court that they had sent a legal notice to Singh on September 14, but the Congress leader had not replied to it.