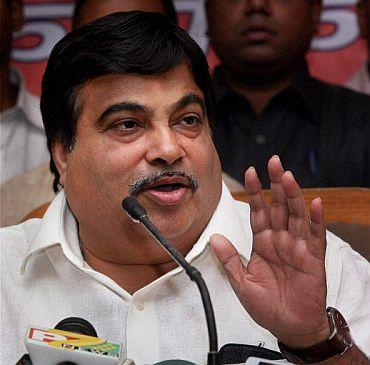 Bharatiya Janata Party President Nitin Gadkari on Thursday served a legal notice on RTI activist Anjali Damania for alleging that he had tried to cover up the irrigation scam when she approached him and demanded an apology from her.
Gadkari's counsel Shamshery & Associates served the legal notice on the BJP President's behalf demanding that Damania retract forthwith the "false, baseless and defamatory remarks" and tender a public apology promptly.
It warns that in case of failure to do so, the counsel will be free to initiate appropriate legal proceedings against Damania, an RTI activist and member of NGO India Against Corruption.
In the notice, the lawyers have charged that Damania has given false statements to TV channels, which were also widely reported in newspapers, insinuating that Gadkari has business relations with Pawar and as a result of this he tried to dissuade her from proceeding in the irrigation scam.
It alleges that Damania falsely claims that Gadkari tried to restrain her from filing a PIL to expose the irrigation scam.
"My client strongly denies the false, baseless and defamatory statement that he has any business relations with Sharad Pawar.
"You are making such false and baseless statements only to make sensation with the object to defame my client," the notice states.
Gadkari's counsel maintained that BJP's Maharashtra unit was the first to unearth the irrigation scam and has under taken public agitations in addition to appropriate legal remedy on this issue.
"My client states that the entire statements, you have stated are deliberate lie with an intention to slander my client and are designed to defame the reputation of my client, who being national president of BJP, occupies a respected position in the political affairs of the nation as well as the society," the notice says.