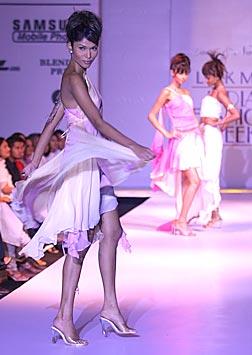 Remember Marilyn Monroe in that gorgeous pink dress singing, Diamonds are a girl's best friends?

Gauri & Nainika interpreted that style and glamour to showcase a line of evening wear dresses reminiscent of the Sixties. The look was one of high-octane glamour with cascading hemlines and cinched-in waists.

"In India, a lot of women have forgotten what it is to be feminine, glamorous and have that Fifties' Hollywood diva look about them. We have tried to show an evening wear line that brings back that feeling," say designer duo Gauri & Nainika, who are showing at the Lakme India Fashion Week for the first time.

Surprisingly, for a Fall-Winter collection, they used very summery colours -- yellows, pale pinks, light greens and summer fabrics like chiffon and satin.

"We don't think it was about summer colours. We wanted to move away from blues and blacks that dominate winter collections and wanted to show colours that are very rich, what we call jewel colours," they say.

The collection is aimed at women between 16 and 35 years old who, the duo say, are young, glamorous and sophisticated.

The line showcased dresses with form-fitting silhouettes and gathered bodies in vibrant colours like red, turquoise and fuschia apart from soft pastels: "We wanted to go for solid and shaded hues over decorative prints to draw attention to the cut and colour."

The collection is priced between Rs 3,000 and Rs 15,000.

Overall, the collection was not about setting a trend or making a statement or even interpreting a theme. It was just about showcasing old fashioned glamour and bringing alive on the ramp beautiful evening gowns draped on some stunning women.
Photograph: Jewella C Miranda
Editorial support: Imran Shaikh