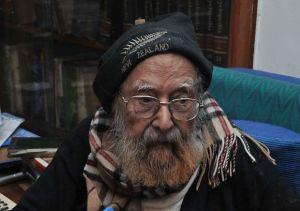 Prolific author and journalist Khushwant Singh's body was consigned to flames today at the Dayanand Mukthidham electric crematorium here on a quiet evening amidst the presence of family members, close friends and well-wishers.
Union ministers Salman Khurshid, Kapil Sibal and Farooq Abdullah as well as BJP stalwart LK Advani and politician and social worker Jaya Jaitley were among the crowd of friends and relatives who payed their last respects to the beloved writer who passed away early this morning at the age of 99.
"There was a very special thing about him that was a part of the ethos of modern India, his wisdom, experience, the analytical ability, the fantastic generosity and, frankly, his feel for the past. He was the past, he was the present and all that he wrote was also the future," External Affairs Minister Khurshid said.
Singh was born as Khushal Sobha Singh in 1915 in Hadali (now in Pakistan) and studied at the Government College in Lahore.
His 1956 novel 'Mano Majra', which was later renamed as 'Train To Pakistan', recounted the Partition and was the work which catapulted the author to fame. The book was later made into a film.
Singh was a big champion of peace between India and Pakistan and had called for the citizens of either country to be allowed to travel to the other without visa restrictions.
When asked about this Khurshid said, "Whatever created differences among people did not hold any significance for Singh. It is obvious that he had a relationship with the land which is today called Pakistan.
"Through the medium of poetry and literature, he wanted to erase the line dividing India and Pakistan. But these lines once drawn cannot be erased... But let his desire, wish and dreams come true one day," the minister added.
Sibal, the Union law minister, also condoled the master writer's death.
"For me it is definitely a shock. He was a very sophisticated person and always spoke from the heart. He was very loving and totally fearless.
"There are very few people like that now. I will always remember him and remember the time spent with him," he said.