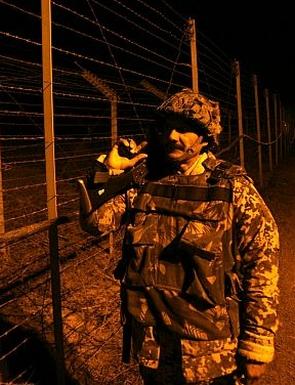 Pakistani troops opened heavy fire on Hamirpur and Balakote border belts along the Line of Control in the Poonch district of Jammu and Kashmir and also pounded civilian areas of Mankote and Mendhar belts here, an army official said on Monday.
"There was yet another firing by the Pakistani army along Hamirpur and Balakote border belts along the LoC in Poonch from Sunday night," Defence Spokeman S N Acharya said.
They fired mortars, rocket-propelled grenades and automatic weapons and Indian troops retaliated strongly, resulting in exchanges which, after continuing throughout the night, were going on intermittently till this morning.
The reports from the area said Pakistani troops also pounded civilian areas with medium mortar shells and rockets, triggering panic among border dwellers in Mankote and Mendhar belts.
"There was no report of loss of life or injury to anyone among troops," Acharya said.
Pakistani troops on Sunday violated ceasefire along the LoC in Mendhar sub-sector of Poonch district around 2:05 pm and it continued till 4:30 pm.
There have been 15 ceasefire violations by Pakistani troops in past nine days, army officials said. Seventy-one ceasefire violations by Pakistani troops have taken place this year from January 1 to August 19, which is 85 per cent more than those during the same period last year, they said.
Six jawans have lost their lives and five jawans were among nine persons injured in ceasefire violations and firing by Pakistan troops on Indian forward posts, civilian areas and patrolling parties along Indo-Pak border during August this year.
Pakistani troops had also fired on Indian forward posts along the LoC in Krishna Ghati, Balakote and Hamirpur belts of Poonch district two days ago.
A senior army officer on Sunday warned Pakistan about making a "serious mistake" concerning ceasefire violations and Border Action Team attacks along the LoC, saying a befitting reply would be given with full force to Pakistan.
"You (Pakistan) are making a serious mistake (with regard to ceasefire violations and BAT attacks) -- do not do it," General Officer Commanding 25 Infantry Div, Major General, V P Singh, had said.
"It is not going to affect, deter us, or weaken our resolve," he had said.