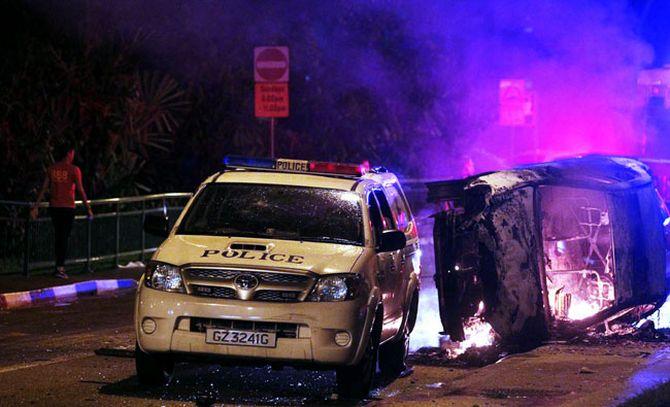 Fourteen Indians were on Thursday jailed for clashing with a group of people in Singapore's Little India, a precinct of South Asian businesses where the country's worst riot in 40 years broke out last year.
Eleven of them were each sentenced to seven months in jail, and the remaining three will serve an additional week for stealing food and beer from supermarkets. The 14 men, aged between 21 and 39, are mostly construction workers from India. They have pleaded guilty to being part of an unlawful assembly in relation to the fight on March 31, 2013.
They got into the fight with another group near a subway station in the Little India, a precinct of Indian businesses, eateries and pubs which is popular among South Asian migrant workers. The prosecution called the March 31 incident "a large scale public order offence".
An estimated 40 to 50 people took part in the clash, including the 14 accused. The 14 men could have faced imprisonment of up to two years and/or a fine.
Meanwhile, a state-appointed Committee of Inquiry into the December 8, 2013, riot continued its public hearing. On December 8, street violence broke out involving some 400 migrant workers from South Asia following the death of an Indian national in a bus accident.
The COI is hearing various aspects leading to the riot, which left 49 police and Home Team officers injured and 23 emergency vehicles damaged, of which five were burnt.
Twenty Indian nationals are awaiting trial for the riot which damaged property worth SGD 650,000. Fifty two Indians and a Bangladeshi have been deported for their role in the rioting. Singapore previously witnessed violence of such scale during race riots in 1969.