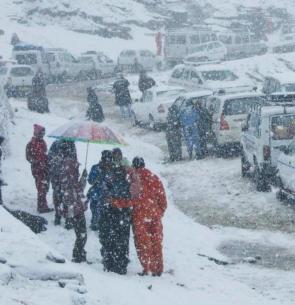 Four persons died while nine others were reported as missing in the tribal Lahaul and Spiti and Chamba districts of Himachal Pradesh as cold wreaked havoc in the hill state.
Two persons, identified as Sanjeev Kumar and Naresh of Patlikuhl in Kullu, who were caught in a blizzard at Gramfu near Keylong, succumbed to the cold. A third person, Prashant Shekhar, has been brought to Koksar in a serious condition, sources said.
The bodies of the deceased have been recovered while the injured person is to be airlifted to Kullu on Tuesday. Two other persons, Raj and Amar Singh, died yesterday in an accident near Thirot, about 40km from Keylong, after their vehicle got stuck in heavy snowfall.
The lone survivor in that mishap was airlifted by rescue personnel.
Meanwhile, four employees of the Himachal Pradesh State Electronics Corporation, were reported as missing at Keylong in Lahaul and Spiti. The group was returning from Keylong following official business.
Rescue teams of the Indo-Tibetan Border Police were combing the area to locate the missing persons even as aerial surveys by helicopters were thwarted by hostile weather.
Meanwhile, Lahaul and Spiti Deputy Commissioner Bir Singh Thakur said that two Army helicopters have been positioned at Kullu with sorties to be made to evacuate five other stranded and injured persons.
The stranded persons had gone to a temple in Shvet Dhar when they were suddenly caught in heavy snowfall.