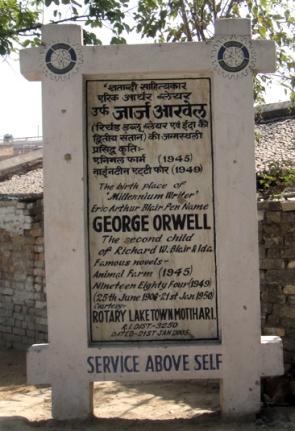 In a bid to popularise the literary work of legendary British author George Orwell in his birthplace Motihari in Bihar, state authorities have now decided to get some of his most well-known books translated in Hindi.
Orwell, who penned revered masterpieces like Animal Farm and 1984, is barely known by the locals of Motihari.
"We have decided to translate George Orwell's works in Hindi to popularise him and his books among the local population," said East Champaran District Magistrate Shridhar Chiivollu.
Shridhar said that the translated versions of Orwell's novel will not only generate a keen interest about the author among the people of Bihar, it will also "give them a sense of pride".
Deo Priya Mukherjee, head of the George Orwell Commemorative Committee in Motihari, said the committee has given its go-ahead to Shridhar's proposal to translate a dozen Orwellian books into Hindi.
These include Animal Farm, Down and Out in Paris and London, Shooting an Elephant, The English People, All is Propaganda, The Wastage Year and Why I Write.
Anurag Kaushal,a district official, said that Rs 5 lakh has already been allotted to the district library where the Hindi translations will be kept.
Orwell, who shot to fame with his anti-establishment novels, was born Eric Arthur Blair in Motihari on June 25, 1903. His father was an employee of the Indian Civil Service.
Blair later adopted the pen name of George Orwell, that he became famous by. Orwell's father was an employee of the Indian Civil Service during the British colonial era.
Ironically, despite repeated assurances by the state government about steps being taken to renovate the house the author was born in, it still lies dilapidated and neglected.
Image: A commemmorative stone erected by the local Rotary club in Motihari ' Photograph: Archana Masih/Rediff.com
Read a special feature on the tragic state of Orwell's birthplace here