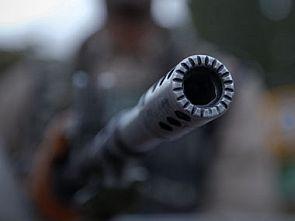 Maoists killed three people and injured as many at Amkola village in Gaya district of Bihar, police said on Monday.
The Maoists swooped down on the village on Sunday night, picked up six-seven people and took them away to a nearby spot.
The left-wing ultras then fired at them indiscriminately, Sub-divisional Police Officer Rajesh Kumar said.
While three people were killed, as many were injured in the firing, the SDPO said.
Among the dead was one Sanjay Yadav, who had recently deserted the Maoist rank.
The Maoists also burnt Yadav's vehicle and took away his arms including a rifle, a pistol and nearly 100 cartridges, the SDPO said.
The Maoists were angry with Yadav, whom they suspected to have leaked information to the police, leading to several raids on ultra outfits and recovery of arms and ammunition.
The three injured have been admitted to the Anugrah Narain Magadh Medical College and Hospital, the SDPO said.