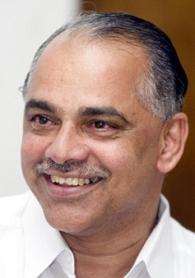 In a major embarrassment for the Opposition Left Democratic Front in Kerala, police on Monday registered a case of sexual harassment against former state transport minister and sitting Member of Legislative Assembly Jose Thettayil and his son.
The case was registered at the Aluva police station on the complaint of a woman, who is a native of Angamally, the constituency which Thettayil represents in the state assembly.
While Thettayil is the first accused in the case, his son Adarsh has been named as the second accused.
Police said the woman's statement has been noted down and she was also taken to the hospital for medical examination.
The woman has also told police that she has a video CD for proof, they said.
Home Minister Thiruvanchoor Radhakrishnan told reporters at Kottayam that since it was a complaint of sexual harassment, lady officer Sajita Begum Sultan, the superintendent of police at the Ernakulam Crime branch, would investigate the matter.
Reacting to the charges made against him, Thettayil said he would face the case legally and said it was part of a 'political conspiracy' to tarnish his image.
Thettayil told TV channels that he knew the woman and her family, but her complaint was baseless. He said that she had approached him with a marriage proposal for his son.
The woman has stated that she was sexually harassed by the father-son duo last year at a flat at Aluva.
The case is likely to take the wind off the sails of the Left Democratic Front's agitation on the solar scam both inside and outside the assembly.
Activists of the ruling United Democratic Front on Sunday took out marches in various parts of the state, shouting slogans against Thettayil.