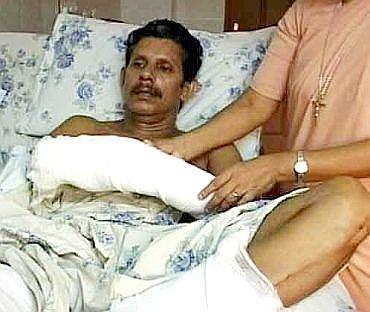 November 14, 2013, was a red letter day for Professor TJ Joseph. A magistrate's court has exonerated him of the charge of hurting religious sentiments of a community through a question paper he had set for his students.
Three and a half years ago, Professor Joseph was working at the Newman college in Thodapuzha, Kerala. In an internal exam for BCom second year students he prepared a question paper which was answered by 32 students.
But a question in the paper offended the Muslim students and one of them wrote in the answer paper, 'It is very difficult and insulting to my religion to write about God and Mohammed and so I am changing it to a conversation between two brothers'.
The question paper created a riot-like situation in Thodupuzha. The professor was arrested on April 1, 2010, and released on bail. His bail was conditional, that he would not enter Thodupuzha taluka.
On July 4, 2010, on the way to church he was attacked by Muslim fundamentalists who cut off his hand saying 'You have insulted our religion'.
After the court exonerated him in the case, a happy Prof Joseph told Rediff.com over the phone, "I am very happy. I had no intentions of hurting anyone. When the protests happened I had given an unconditional apology to both the public and the college but it was not accepted. Today they know that I was innocent."
After the attack on him his hand was stitched back in a Super Specialty Hospital in Cochin in an operation that lasted 15 hours, and he was given 12 bottles of blood.
About the hand that was stitched back the 53-year-old professor said, "My fingers are moving but I still cannot grip anything with this hand, so I eat and write with my other hand."
He is no longer taking professional treatment, either from the physiotherapist or a doctor. "The family at home gives me a massage. They have now learnt it," he said with a laugh.
The hand-chopping case is being investigated by the National Investigation Agency and the trial is progressing. Most of the assailants have been arrested and the vehicle they used has been impounded.
Prof Joseph spends his days reading and writing. He is also writing his autobiography. He stays home most times and goes out rarely. "I go to church once in a while and not regularly as earlier," he said.
After the incident three and a half years ago his college suspended him and later dismissed him. He challenged the dismissal by petitioning the M G University (Kottyam) Administrative Tribunal, to which his college is affiliated.
About his appeal he said, "Now if the tribunal too decides in my favour, I will get all benefits and my pay from April 2010."
However, he has no illusions of going back to college. "March 31, 2014, is my retirement date so I don't think I will be able to go back. It's too late now."
Image: Professor T J Joseph in hospital after the brutal attack three and a half years ago ' Image courtesy: Rediff Archives