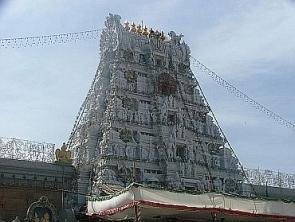 For the first time in the last three decades, state-owned Andhra Pradesh State Road Transport Corporation buses on Tuesday did not operate its services on the hill routes leading to the Lord Venkateswara shrine following indefinite strike by transport unions across the state demanding reversal of the Centre's decision to carve out Telangana from Andhra Pradesh.
Temple sources told PTI that the entire fleet of about 500 buses running between Tirumala and Tirupati went off the road on Tuesday.
It was for the first time devotees were affected by such a protest since October 14, 1984 when the hill route services went off the road in support of the then chief minister, late N T Rama Rao who was undemocratically ousted, they said.
The sources said devotees proceeding in small vans and cars on the hill routes were spared by the agitating 'Samaikya Andhra' movement leaders.
The pilgrims at Tirumala and in Tirupati had to wait for hours to catch private vehicles who charged higher fares. The hill temple Deputy Executive Officer Chinnamgari Ramana told PTI the pilgrim rush on the hills has come down considerably with precautionary measures taken up by temple management.
As part of it, non-stop 'mahalaghu' darshan (offering worship from a distance) was imposed in the temple from Saturday last, clearing a pilgrim rush of about two lakh devotees.
On forenoon, there were only about 15,000 devotees on the hills and of them only half were waiting in the queue for darshan, sources said.
Meanwhile, the ongoing two-week protests in the state against the proposed bifurcation of Andhra Pradesh gathered momentum today with the general strike by the AP non-gazetted officers and APSRTC personnel.