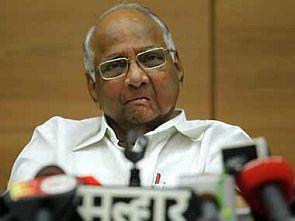 Nationalist Congress Party Supremo and Agriculture Minister Sharad Pawar has dismissed the possibility of early general elections in view of government issuing food security ordinance, saying the "question does not arise unless and until the food reaches the people".
Pawar also expressed confidence that the ordinance will be passed in the next session of Parliament, set to begin from August 5.
The Centre has come out with the Ordinance on Food Security Bill, which intends to provide legal right over cheap foodgrains to 82 crore people.
Five Congress ruled states, including Delhi, are planning to roll out the new scheme from August 20, the birth anniversary of late Prime Minister Rajiv Gandhi.
Asked if the government has hurried to bring food security ordinance to declare early elections, Pawar said, "I don't think so. Election will be on normal time. The question of early elections does not arise unless and until the food reaches the people."
The Centre has taken a 'conscious decision' to provide food security to the poor through an ordinance route because it was the government's commitment to provide cheap foodgrains to a sizable section of society, he told reporters on the sidelines of ICAR foundation day.
As per the Ordinance, the state governments are required to give the list of beneficiaries within six months. "By six months, definitely they will (prepare the list) and full implementation will start as early as possible."

Expressing confidence that the ordinance would be passed in the next session of Parliament, Pawar said, "It will come for discussion in August. I hope we will get full support. We are confident that it will be passed in Parliament."

According to United Nations, India is home to 25 per cent of the world's hungry poor.

The food scheme, a pet project of Sonia Gandhi, is seen by the party as a "game changer" in the 2014 Lok Sabha elections.

The food security programme aims to give legal right over 5 kg of foodgrains per person every month at highly subsidised rates of Rs 1-3 per kg. Government would require 62 million tons of foodgrains to implement this programme, costing the exchequer Rs 1,25,000 crore annually.