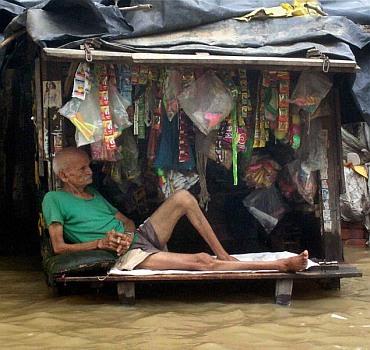 At least 21 persons have died and thousands were marooned in villages across eight districts of Uttar Pradesh where release of water from dams in Nepal have caused major floods, even as large parts of the state were heading towards a drought-like situation due to scanty monsoon rain.
While 12 persons were swept away by the sudden gush of waters from an overflowing Ghaghra river in Bahraich, three were reported dead in a village of Shravasti district and six perished as a boat capsized in the guzzling waters of the Rapti river in Lakhimpur-Kheri over the past 24 hours.
While flooding of the Nepal-fed rivers was a routine annual feature, what caught the UP villages unawares was the sudden release of waters from the overflowing dams on the rivers, engulfing huge areas in the downstream on the Indian side.
The flood waters have also led to an alarm in the DudhwaNational Park, the country's second biggest tiger reserve after CorbettNational Park.

Wildlife authorities are at a loss to figure out how to ensure protection of animals in the vast spread of 700 sq km of forest where other than tigers, there is a huge population of leopards, spotted deer, rhino and other animals.
UP Chief Secretary Alok Ranjan told this scribe Sunday morning, "The flood situation arose following heavy downpour in Nepal, which led to overflowing the Ghaghra, Saryu, Sharda and Rapti rivers , which originate in the Himalayan region including Tibet and Nepal."
He said, "Nearly 200 villages are badly affected on account of floods, leaving thousands of people marooned. However, we have arranged for three army helicopters to provide quick relief to the flood victims. Meanwhile, a special team of the National Disaster Relief Force has also arrived and was engaged in rescuing people from marooned villages together with the state's own contingent of the Provincial Armed Constabulary, specially trained to combat floods."
Meanwhile, the situation is likely to worsen over the next few days with more water being released from the Nepal dams, as a cloudburst was reported from certain areas in the upstream of Ghaghra.
According to Ranjan, "the state is well equipped with both manpower and resources to meet the current crises and we will leave no stone unturned to ensure that the affected people receive prompt relief."
He said, "the administration in the flood affected districts of Bahraich, Shravasti, Lakhimpur-Kheri, Gonda, Balrampur, Siddharth Nagar, Sitapur and Barabanki districts were already been on a red-alert and we are keeping a round-the-clock vigil on the situation from the state capital here."