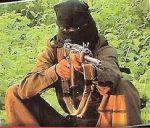 Five hardcore Maoists, allegedly involved in a number of violent incidents, surrendered before security forces at two different places in Odisha's Malkangiri and Koraput districts on Tuesday.
While a hardcore activist, involved in many offences including attack on police armoury in Nayagarh gave himself up before the police in Malkangiri, four naxals laid down arms before the BSF in Koraput, official sources said.
Superintendent of Police, Malkangiri, Akhileswar Singh said Sandip Madhi alias Sunil, 25, of Motu area of the district, gave up arms due to illness and disillusionment with activities of Maoists.
After joining the outfit in 2006, Sandip was involved in incidents including an encounter with police at Pujariguda, Nayagarh mayhem involving attack on police armoury and other establishments, attack on a camp of Odisha State Armed Police and gunbattle at Badigata, he said.
Sandip quit the cadre in 2012 and had gone into hiding to escape both the police and Maoists before deciding to surrender and return to the social mainstream, police said.
In a similar development in Koraput, at least four hardcore Maoists with three single-bore guns surrendered before the officiating DIG of BSF, K S Sukla with a desire to return to the mainstream society.
The rebels all belonging to Jhanjabati Area Committee of CPI (Maoist) have been identified as Jumbaru Kadranga, Ranju Kadranga, Malu Bidika and Malka Basia.
"Non-bailable warrants are pending against them for their involvement in Maoist offensives under Bandhugaon police station. They will be handed over to the state police and will be rehabilitated as per the surrender policy of the state government," said Sukla.