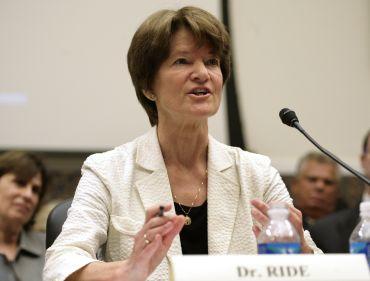 Sally Ride, the first US woman to go into space, has died after a 17-month battle against cancer. She was 61.
Ride joined NASA in 1978 and in 1983 she became the first
American woman in space as a crew member on Space Shuttle Challenger for STS-7. At 32 years old, she was also the youngest American space traveler at the time.
US President Barack Obama expressed sadness over her demise and called her a "national hero and a powerful role model."
"She inspired generations of young girls to reach for the stars and later fought tirelessly to help them get there by advocating for a greater focus on science and math in our schools," Obama said in a statement.
"Sally's life showed us that there are no limits to what we can achieve and I have no doubt that her legacy will endure for years to come," the US President said, after the death announcement from Sally Ride Science, the San Diego company she developed to provide classroom materials, programmes and professional help for K-12 teachers.
Ride was suffering from pancreatic cancer and died on Monday, after battling a 17-month, the company said.
"Sally lived her life to the fullest, with boundless energy, curiosity, intelligence, passion, commitment, and love. Her integrity was absolute; her spirit was immeasurable; her approach to life was fearless," it said.
NASA administrator, Charles Bolden said: "Sally Ride broke barriers with grace and professionalism -- and literally hanged the face of America's space programme."
"The nation has lost one of its finest leaders, teachers and explorers. Our thoughts and prayers are with Sally's family and the many she inspired. She will be missed, but her star will always shine brightly," he said.
The soft-spoken California physicist broke the gender barrier 29 years ago when she rode to orbit aboard space shuttle Challenger to become America's first woman in space, NASA said.
Ride's place in history was assured on June 18, 1983 when she rocketed into space on Challenger's STS-7 mission with four male crewmates.
She holds the distinction of being the only person to serve as a member of both investigation boards following NASA's two space shuttle accidents.
She also served as a member of the Review of US Human Spaceflight Plans Committee in 2009 which informed many of the decisions about NASA's current human spaceflight programme.
Ride joined NASA as part of the 1978 astronaut class, the first to include women. She and five other women, along with 29 men, were selected out of 8,000 applicants. The class became known as the "Thirty-Five New Guys" and reported to the Johnson Space Center the next summer to begin training.
Ride trained for five years before she and three of her classmates were assigned to STS-7. The six-day mission deployed two communications satellites and performed a number of science experiments.
Following that historic flight, Ride returned to space on another shuttle mission, STS-41G in 1984. The 8-day mission deployed the Earth Radiation Budget Satellite, conducted scientific observations of Earth, and demonstrated potential satellite refuelling techniques.
She was assigned to a third flight, but transitioned to a role on the Rogers Commission that investigated the Challenger accident after that shuttle was lost in January 1986. When the investigation was completed, she accepted a job as a special assistant to the NASA administrator for long range and strategic planning.
"The space community, teachers and students around the world have lost a great friend and role model," Space Foundation CEO, Elliot Pulham said.
Ride was author of five science books for children and initiated projects designed to inspire middle school students' fascination with science.
Image: Sally Ride
Photograph: Reuters