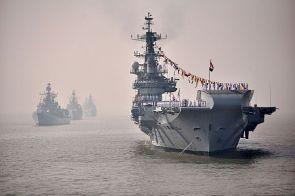 Close on the heels of the sinking of submarine INS Sindhurakshak in which all the 18 personnel died, a fire incident took place on country's only aircraft carrier INS Virat off the coast of Mumbai.
Sources said the fire incident took place on board the INS Virat near the officers' mess section of the warship, sources said.
Navy Headquarters termed the event as minor, saying there was no injury to anyone in the fire incident in the air conditioning system on the aircraft carrier last week.
The INS Virat is country's only aircraft carrier and is over 50 years old and has undergone several refurbishments to continue in service in view of the delays in induction of the INS Vikramaditya being procured from Russia and the Indigenous Aircraft Carrier being built in the Cochin Shipyard Limited.
On August 14, Kilo Class submarine of the Navy INS Sindhurakshak sank after an explosion in its front section where torpedos are kept leaving all the 18 personnel including three officers dead.
The Navy has failed to meet the four-week deadline of completing its inquiry into the mishap and is still in the process of issuing tenders for salvaging the boat. The salvaging of the vessel is important for investigators to find out the exact cause of the mishap.
INS Sindhurakshak had returned in January after an upgrade by a Russian shipyard at an estimated cost of Rs 480 crore.