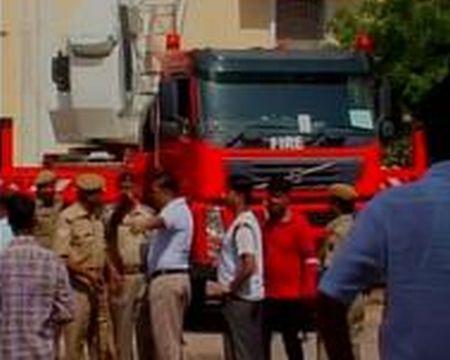 A fire broke out in the administrative office inside the CityPalace complex and spread to an art gallery, damaging some records and paintings on Sunday
"The fire damaged the office and some portion of the art gallery. Some items and paintings in the gallery have also been damaged," Deputy Commissioner of Police (north) Ashok Gupta said. He said the flames were controlled by fire tenders and no one was injured in the incident.
"A short circuit seems a probable cause of the fire which broke out when the office and gallery were closed in the morning," he said.
Additional Superintendent of Police Sunil Vishnoi said some records and other material in the administrative office got burnt. The fire broke out around 8:45 am and 13 fire tenders were pressed into action to douse it, senior fire officer Ishwar Lal Jat said.
"Important ancient documents, facets art and library material of historical importance were gutted," he said, adding, "Tthe fire broke out in an area in which an office and museum (Maharaja Bhawani Singh Gallery) were located." Forty shops selling tourism material on the ground floor were unaffected by the fire, he said.
According to City Palace sources, the office where the fire broke out was on the first floor and the flames spread to a commercial art gallery 'Friends of Museum' located on the the ground floor. "There was no damage to the museums of the CityPalace and to the residential area," the sources said.
CityPalace is a palace complex in the PinkCity and was the seat of the Maharaja of Jaipur. One of its part now houses a museum but the greater part of it is the residence of the members of Jaipur's erstwhile royal family.
Image: Fire officials try to douse the flames at the City Palace. Photograph: ANI/Twitter