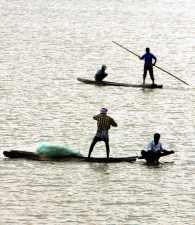 Fifteen Tamil Nadu fishermen, arrested by Sri Lankan naval personnel on October 19, were ordered to be released by a court in Jaffna in the island nation on Monday.
The fishermen, hailing from Pudukottai, were produced before the judicial magistrate court, which ordered their release. However, four boats impounded by the Lankan naval men had not been released, officials from Rameswaram said quoting information received by them. The fishermen would return on Monday or Tuesday, they added.
Meanwhile, a local fishermen association alleged that a group of fishermen, who put out to sea from Rameswaram in 708 boats on Monday morning, was attacked by Sri Lankan naval personnel near Katchatheevu.
The naval men allegedly snapped the fishing nets of ten boats, Rameswaram Fishermen's Association President S Emiret told reporters. The naval personnel also detained two boats but let them after a severe warning, he claimed.
Tamil Nadu Chief Minister Jayalalithaa has been voicing concern over the detention of Indian fishermen and in her latest letter to Prime Minister Manmohan Singh she insisted that India should use highest diplomatic channels to secure the release of 80 fishermen and 47 fishing boats detained by the Sri Lankan authorities.