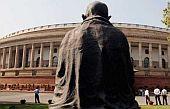 The storm over FDI in retail rocked Parliament for the third day in a row with a determined Opposition adamant on a discussion on the issue under a rule that entails voting.

While Lok Sabha could not transact any official business because of uproar over FDI issue, the Upper House was stalled by UPA ally Samajwadi Party over the issue of reservation for SCs/STs in government job promotions.

The two Houses earlier paid homage to those killed in the 26/11 Mumbai terror strike on its fourth anniversary on Monday.

The Lok Sabha was adjourned at around noon for the day as the House witnessed pandemonium over FDI. The House earlier witnessed one adjournment till noon.

Similar was the case with Rajya Sabha, which was also adjourned around the same time after ruckus created by SP members over the reservation issue.
All the while, BJP members were on their feet raising slogans on the FDI issue.

Members of Trinamool Congress, DMK, AIADMK, TDP and CPI also stormed the Well in the Lok Sabha for different reasons, with Trinamool members demanding withdrawal of decision on FDI in retail and making a strong plea for 24 LPG cylinders a year on subsidised rates as against six available now.

Trinamool members chanted "2G mein akaash gaya, coal block mein pataal, dharti gaya Dubai mein, ab jayega bhrasht sarkaar" -- loosely meaning that the alleged scams involving 2G, coal blocks and land allocation would culminate in the ouster of the corrupt government.

Ramesh Rathod (TDP) raised a placard demanding a bill for separate Telangana in the current session.

With DMK giving notice for discussion in Lok Sabha on the 2G spectrum issue, its MPs were in the Well raising copies of newspaper clippings on statements made by former CAG official R P Singh.

Members of the four Left parties were on their feet protesting FDI in multi-brand retail, with RSP's Prasanta Majumdar insisting that there should be discussion on the issue under a rule that entails voting.

BJP members also shouted slogans like "take back the FDI decision".

Amid din, HRD Minister M M Pallam Raju introduced a bill to amend the Central Universities Act, 2009.

In the Rajya Sabha, soon after the House paid homage to the victims of Mumbai attacks, senior BJP leader M Venkaiah Naidu raised the issue of FDI and was joined by other party colleagues.

Naidu said his party has given notice to suspend the Question Hour to discuss the FDI issue.

BSP and SP members too raised slogans against FDI in multi-brand retail. BSP demanded the decision be taken back. Trinamool members were also on their feet.

As repeated appeals for normalcy went unheeded, Chairman Hamid Ansari adjourned the House till noon. When the House reassembled, similar scenes were witnessed and E M S Natchiappan, who was in the Chair, adjourned it for the day.