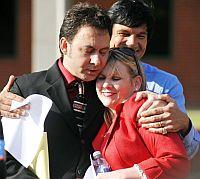 The Federal Bureau of Investigation has dropped the charges against a man for allegedly sending a poison-laced letter to the United States President Barack Obama and a Senator.
The FBI decision, which surprised many, came a day after the investigating agency told a local court that they could not find ricin -- the poisonous substance -- from the house or the vehicle of Paul Kevin Curtis, who was arrested last week on charges of sending letters to Obama which had ricin.
The FBI is now looking at another suspect, authorities said on Tuesday.
The letter sent to Obama from Curtis was mailed between April 8 and April 17.
Attorney for Curtis said he was being framed.

The White House Press Secretary, Jay Carney, said he wasn't aware if the President has been briefed on Curtis's release.